Earlier this year I was asked to do a staged reading for story-teller Elaine Blanchard – my 6th opportunity to take part in her brilliant effort to share community stories back into the community. A lot can be said about Elaine's work, and should be. She's a voice for the voiceless, a beacon of empowerment to many many people. But this isn't a story about Elaine. It's a story about a place she introduced me to.
I got the email about our 1st rehearsal and unlike previous experiences with Elaine's staged readings, we were not to meet at a church, or a school, or a theatre space. This time my email told me we were meeting at a place I had never heard of – called the Caritas Village. I slapped that address into my trusty iPhone and did a slight double take when it gave me my result. My map told me I was to be going just 1.9 miles north of where I live to a street off Hollywood. I'd be lying if I said I was not both surprised and concerned. There's a location near my neighborhood that has a thing with the word "village" in the title and I didn't know? Surprise. It's off of Hollywood where I once heard about a shooting maybe 10 years ago? Concern. I haven't been on Hollywood in 10 years because once a gun was fired? Surprise. I haven't been on Hollywood in 10 years because once a gun was fired? Concern. I drove there, turned the corner onto Harvard, and saw this.
Latin for "Love For All People," The Caritas Village is reminiscent of my 80s childhood, brightly colored, simple, full of books and arts, no visible machines or signs of a lot of technology. It smells like paint and coffee and paper and something much much older than me. Carla and I had lunch there one day where she captured these photos and the Caritas captured our hearts. We at Find Memphis are just learning our waywith no deadlines, no expectations, and no loud noises. This might be one of our favorite discoveries yet.
The Caritas Village mission statement says their hope is "to break down the walls of hostility between the cultures, to build bridges of love and trust between the rich and those made poor and to provide a positive alternative to the street corners for the neighborhood children." Founder, Onie Johns is "passionate about community and the arts and believes that creativity is more valuable than knowledge and feels that we are all sojourners on earth and that there is 'enough' for everyone." As the website states, The Caritas Village uses art, music, hospitality, theatre, classes, and connections to creatively join people together in common goals from many different ethnic, racial, and socioeconomic backgrounds.
There is a rehearsal space on the 2nd floor that allows for classes and activities. Once a Masonic Lodge, these old theatre chairs are BEAUTIFUL. Deep blues and greens tell a story of something long gone, full of importance. The bottom half of the main building is a coffee shop and restaurant with a library and a place for artists to display their works. A donation table, like a tiny thrift platform, was home to discards ranging everywhere from a beaded wedding gown to a VHS copy of the Kevin Kline film In and Out. If only I still had a VCR……
There is artist-in-residence housing across the street from the main building and the community of the Caritas Village have got quite a garden going for them with plenty of herbs and veggies like cucumbers, which were starting to bud the day we were there! Lovely. Carla and I had a really great lunch. I was in it for a patty melt or a pb&j but the menu is pretty fantastic – we ended up with a California turkey melt and a salmon salad. Seriously. This place is amazing. The Caritas also hosts a free medical clinic with an all volunteer staff 3 days a month. Bringing brightness to the Binghampton neighborhood, it is just a hop skip away from Overton Square and Cooper-Young.
Swing by and have lunch with them. Share a story or two. There is a community within our community and they are doing great things.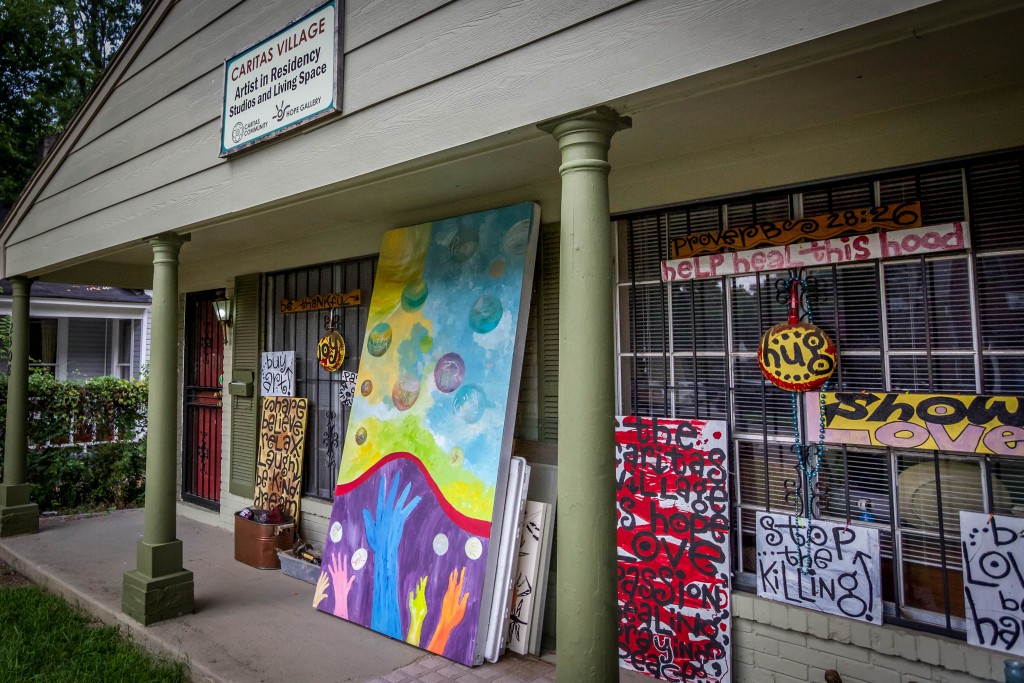 To learn more about the Caritas Village, please click here.
All photos were taken by Carla McDonald.
These words were made by Courtney Oliver.
For thoughts and suggestions, please go here and we will read and respond graciously!