If you didn't know – and it took me ten years to find out myself – Memphis' Metal Museum is one of the greatest and most picturesque gifts our city has to offer. Just South of Downtown Memphis, the beautiful grounds sit as close to the Mississippi River as one can dream. In operation since 1979, the Metal Museum has 5 buildings – 3 of which are historic buildings that were originally part of the US Marine Hospital, most of which is still standing empty next door. (For a look at the hospital now, click here).
The Metal Museum's website informs us that it is the "only institution in the United States devoted exclusively to the advancement of the art and craft of fine metalwork." I'm sorry. That's awesome. Thanks Memphis for once again making me proud. Also, have you SEEN it? A perfectly landscaped courtyard is framed by their historic buildings on 2 sides and a view of the river and the I-55 bridge that is unbeatable. When I stood under the gazebo during a visit with a friend to take in that view, I glanced down at the landing below and saw a few iron tables and chairs. Armed with the knowledge that one of the buildings on this campus houses the Museum's resident and guest artists, I sighed wistfully and said, "Can you imagine eating breakfast out here every day?" And my friend said, "Well. I suppose if you have the skill and talent to make your own tables and chairs, then yes, you deserve it." I am going to assume those tables and chairs were not necessarily made by an artist with the Museum, but still. She's right.
It's stunning. You might see this.
On Thursday nights the Museum stays open after hours to provide the unique experience of seeing some of the artists at work. Carla and I had the privilege of watching metal artist Matthew Snape at work as he created an ornamental hook for a young man who watched him wide-eyed a mere 6 feet away from his flame.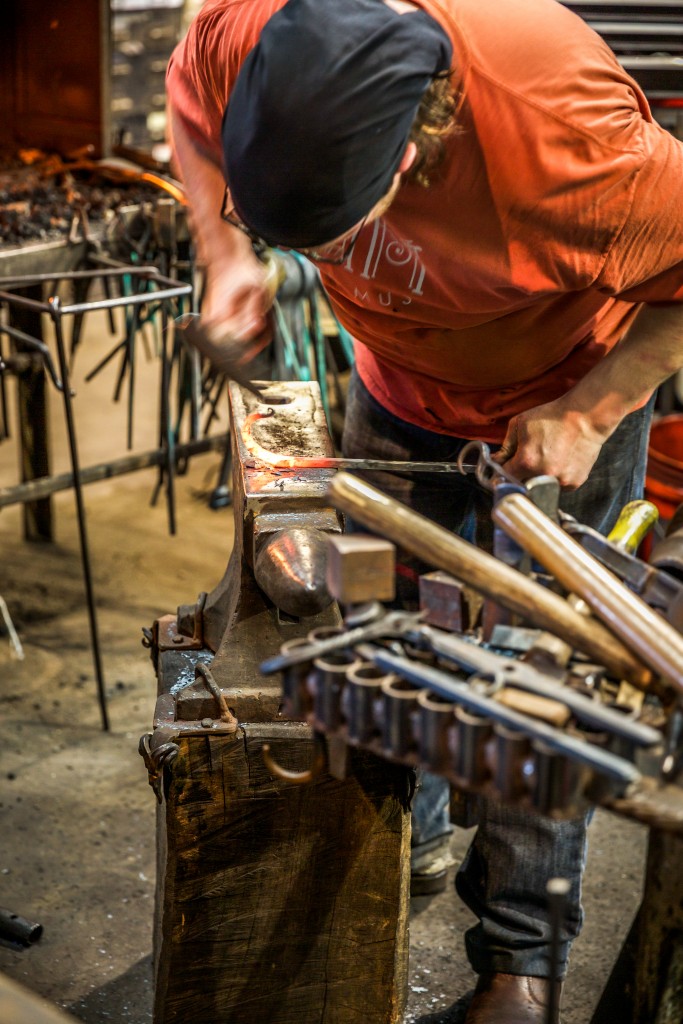 Matthew is the Museum's second-year Blacksmithing Apprentice, originally from North Yorkshire in the U.K. Matthew is an unassuming demonstrator – he's not putting on a show. You can tell he has a deep respect for each piece of metal he touches, moving gracefully as if he weren't sticking his hand in a large fire. He banged out that hook (literally) in all of 10 minutes, expertly explaining every single step. He made it look easy; accessible.  I'm surprised I didn't attempt to throw all of my spoons in the oven when I got home.  When Matthew finished the demonstration I asked him what, of the numerous ornamental objects displayed on the table, were his. He pointed out a few rather remarkable small pieces and then said, "Oh yeh – that's mine too." I turned to see a standing candle-holder at the far end of the table, just kinda hanging out all by itself in a corner. It was taller than me. It's a remarkable piece. Matthew explained his process and the hours he put into it while Carla and I stood ogling, jaws dropped, agreeing never to question the prices of metal art ever again. It's a small story to illustrate how amazing it is – what goes on in the world that we never ask questions about and never take into consideration the time and talent it took to create. She and I are artists ourselves, but are continuously reminded that the art in this world is forever an endless wonder no matter how much we thought we already knew. We encourage everyone who is wondering what to do on a day or night off to seek that art out. Start here if nowhere else. Because it is readily available and has the potential to blow you away.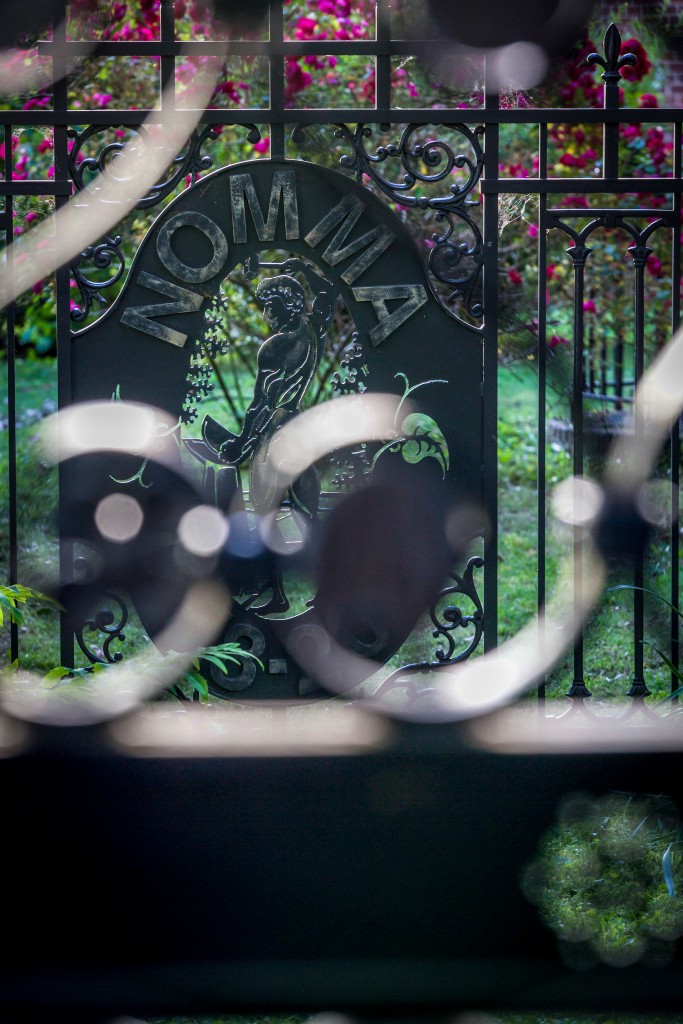 Also, they're funny.
And the gift shop is pretty amazing, too.
For upcoming events like these Thursday night open houses, click here.
For more general info on the Museum, click here
.
If you're lucky, you can catch this on your way out. That's reason enough.
All photos were taken by Carla McDonald. This entry was written by Courtney Oliver. To read more about us or email us with any thoughts or recommendations of what you'd like to see next, please click here.